Biography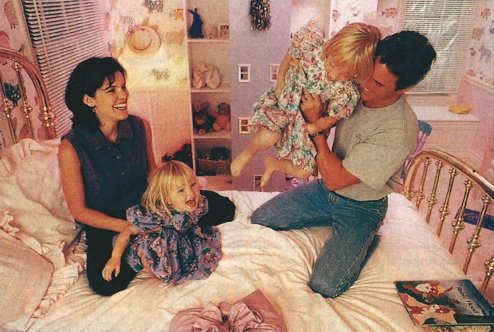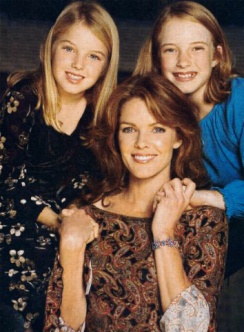 Birthdate
May 23, 1960 in Atlantic Beach, Florida
Full Name
Clarence Linden Garnett Ashby III
Spouse
Susan Walters (April 19, 1986 - Present)
The couple met in 1983, on the set of Loving. Ms. Walters had been on the show for about eight months as a regular, and Mr. Ashby had come on to play a guest spot in an episode. Ms. Walters knew instantly what was in store for them, and she even said to the makeup artist: "That's the man I'm going to marry." They didn't exactly get together right away - neither one spoke much to each other over the next couple of years. But in 1985, fate brought them back together when he joined the cast of Loving. One night after an acting class they attended together, they went out and got to talking. Three days later they moved in together and five months later, they were married. More details, straight from Ms. Walters is available here
Want to see the Where the Truth Lies video clip where Mr. Ashby questions Ms. Walters on the witness stand? Click here! Courtesy of the Susan Walters Web Site.
Children
Savannah, (Born in November, 1992)
Grace, (Born in June, 1991)
Siblings
Two older sisters, who will remain unnamed.
Education
Graduated from Bolles High School, a private school located in Florida.
Attended Fort Lewis College (a branch of the Colorado State University) in Durango. He majored in business and psychology and held a 3.5 GPA before dropping out Junior year to become an actor.
He studied at the Neighborhood Playhouse under the prestigious Sanford Meisner for two years.
Residence
Earlier this year, they sold their home in California and moved to a suburb of Atlanta, GA. As many of you recall, some of Mr. Ashby's family is located in the Jacksonville area of Florida, and Ms. Walter's family is in Georgia.
Community Involvement
There's an organization called Thursday's Child that specializes in helping at-risk youth. Mr. Ashby and Ms. Walters are on the Board of Trustees, along with a whole slew of other celebrities.
Familial Facts
The "Family Business" is the Monticello Companies, started in 1908 by Dr. T.S. Roberts. I think his father is CFO there. Okay, so I was wrong. Someone was nice enough to inform me that Mr. Ashby's father is not affiliated with the Monticello Companies, but is affiliated with Monticello Bank.
His mother is Eleanor Ashby. She served as Executive Director of Leadership Jacksonville, a nonprofit organization that provides leadership training, until retiring on July 1, 1998. She headed the agency for 20 years, starting in 1978 (only two years after the program was founded). This organization has produced over 1,200 youth and adult leaders, including Mayor John Delany, Sheriff Nat Glover, and Gertrude Peele (state director of the National Council of Negro Women).
She was presented with the Arnolta Johnston "Mama" Williams Lifetime Achievement Award on Tuesday, June 16, 1998 at the 1998 Florida Times-Union EVE Awards.
She also serves on the board of Planned Parenthood of Northeast Florida, one of several University of North Florida Advisory Councils, and the Jacksonville Women's Network.
Hobbies
He's been surfing since he was 9. He actually grew up right on a beach in Northeast Florida. Apparently likes the effects of El Niño and a beach called "Zeroes" just south of the county line. He even surfed competitively back in high school - he was invited to the East Coast Championships three times!
---
Skiing - taught and raced while attending Fort Lewis College.
---
Singing - Mr. Ashby was member of a band called "The Loners" (1989 - 1991). They even had a Super-8 video called "Guilty" that aired on MTV! If you'd like to hear their songs, go to MP3.com - The Loners.
---
Flying his 6-seat single-engine Piper Lance with retractable gear currently housed at Van Nuys Airport.
Mr. Ashby owns one of the two types of planes listed below. One of the gracious owners of the "Delaware Valley Aviation Flying Club" was kind enough to explain to me the main difference between the Piper Lance and the Piper Lance II. In his words (because he explains it best):
"...there were basically two types of "Lances" produced with retractable landing gear. The main difference is the location of the horizontal stabilizer (the small wing in the back). Our version (Lance II) is called a 'T' tail because this wing is mounted high on the tail and forms a T. The other version has the wing mounted low (and is often called a straight tail)..."
The following pictures are courtesy of the Delaware Valley Aviation Flying Club:
Piper Lance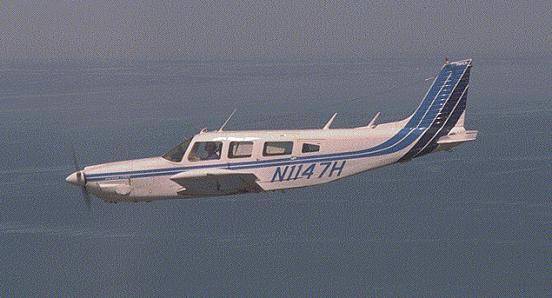 Piper Lance II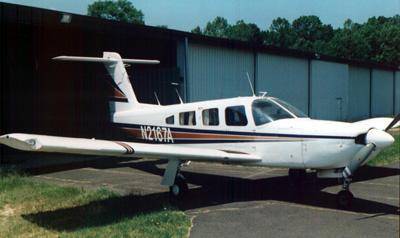 Update: He no longer owns the plane.
---
Now owns two horses, Goldie and Pearl (Shown below). This particular hobby is covered in an article in our library!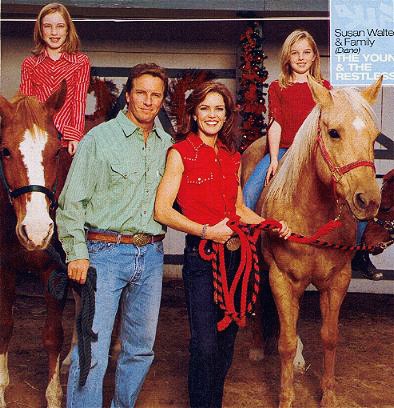 ---
And the rest: golf, tennis, windsurfing, scuba diving, horseback riding, and hunting.